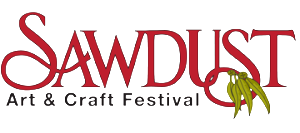 The Sawdust Art Festival is a non-profit organization dedicated to educating the public and promoting the art created in Laguna Beach.
Since its inception, the non-profit Sawdust Art Festival organization has celebrated and supported the work of local artists.
Designed to both entertain and educate, the Sawdust Art Festival draws more than 200,000 visitors world-wide each year. Visitors are invited to shop along sawdust-covered paths through a hand-crafted village of fine arts and superb craftsmanship. Artists that exhibit during the summer festival are Laguna Beach residents. The Sawdust Art Festival also features art demonstration booths such as glassblowing, complimentary hands-on art workshops, a children's art booth, Ceramic Center, as well as refreshments from four outdoor cafes and saloon, live musical entertainment and more.
The Sawdust Art Festival sets itself apart from Laguna Beach's other summer art festivals in that it is non-juried, so it plays a vital role in supporting the careers of many local artists. The Sawdust has expanded from its beginnings as a small show on a vacant lot on PCH to a 9-week festival set in a cool three-acre eucalyptus grove, complete with waterfalls, in Laguna Canyon. Along the way, the Sawdust has become the Southern California's most popular summer art festival, drawing higher paid attendance than any other summer festival.
More Information click here.